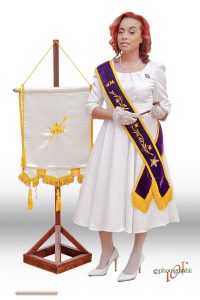 Sisters & Brothers of Viola Hart-Felton Chapter No. 584!
What a pleasure it is to be back in the company of those who are willing and ready to SERVE! I am looking forward to carrying out the remainder of this year with a focus on sisterhood, service and fellowship as it is my goal that our bond be strengthened, our finances be secure and our works be invaluable. This time is now to rebuild our foundation one brick at a time! And while we may not get everything in mind completed in this timeframe, I do believe we will certainly make a good imprint on our course, enough to maintain our historical imprints and legacy!  
I thank you for your presence and I thank you in advance for your continued support! I ask that you remain patient with me in my time of growth as I aspire to consistently be the leader this chapter needs. I am excited for what this year holds for us and all of the things we will accomplish together as I visualize VHF being greater and stronger than it has ever been!
To our officers, elected and appointed, we have a lot of work to do in the time we have left together so strap up your boots as we have a hefty ride in store for us all! My challenge to you is to be present, reliable, accountable and consistent. Be patient, kind, diligent, and realistic with your goals. Also, remember to communicate, ask questions and never be afraid to give and receive constructive criticism. Lastly and most importantly remember to not get so caught up in the tasks that you don't take a moment to breathe or let your sisters/brothers know that you need that breath! I am looking forward to continuing to glean from and with each of you!
After much thought about the direction of the chapter this year I began to meditate on the beauty of the Phoenix. "In Greek mythology, a phoenix is a long-lived bird that is born again. Associated with the Sun, a phoenix obtains new life by arising from the ashes of its predecessor. In the historical record, the phoenix "could symbolize renewal in general as well as the sun, time, the Empire, resurrection, etc." It is with this in mind that I announce to you our motto for the remainder of the 2018-chapter year: "The VHF Rebirth: Year of the Phoenix". I pray that with this in our hearts we will in fact arise from our ashes to fulfill our unified purpose by exemplifying the beauty and splendor that resides within us all!
With that being stated let us continue to be proficient in our works, kind with our tongues and loving in our HARTS!
"Therefore, if anyone is in Christ, the new creation has come: The old has gone, the new is here!" -2 Corinthians 5:17
With Love and Sincerity,
Viola Hart-Felton Chapter No. 584, O.E.S
Prince Hall Jurisdiction of Georgia