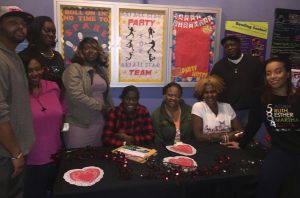 On February 17th, 2017 Viola Hart-Chapter #584 hosted in its annual Fundraiser Bowl for the Heart. This program is a fun night of bowling, games, and fellowship that help raise funds for a worthy cause.
Heart disease, such as coronary heart disease, heart attack, congestive heart failure, and congenital heart disease, is the leading cause of death for men and women in the U.S. During the month of February, Americans see the human heart as the symbol of love.
VHF gave their love by donating the proceeds from this event to a recent heart attack survivor Shawn Reader. Hear from Shawn Reader by watching her video at http://bit.ly/2p4zx6J .